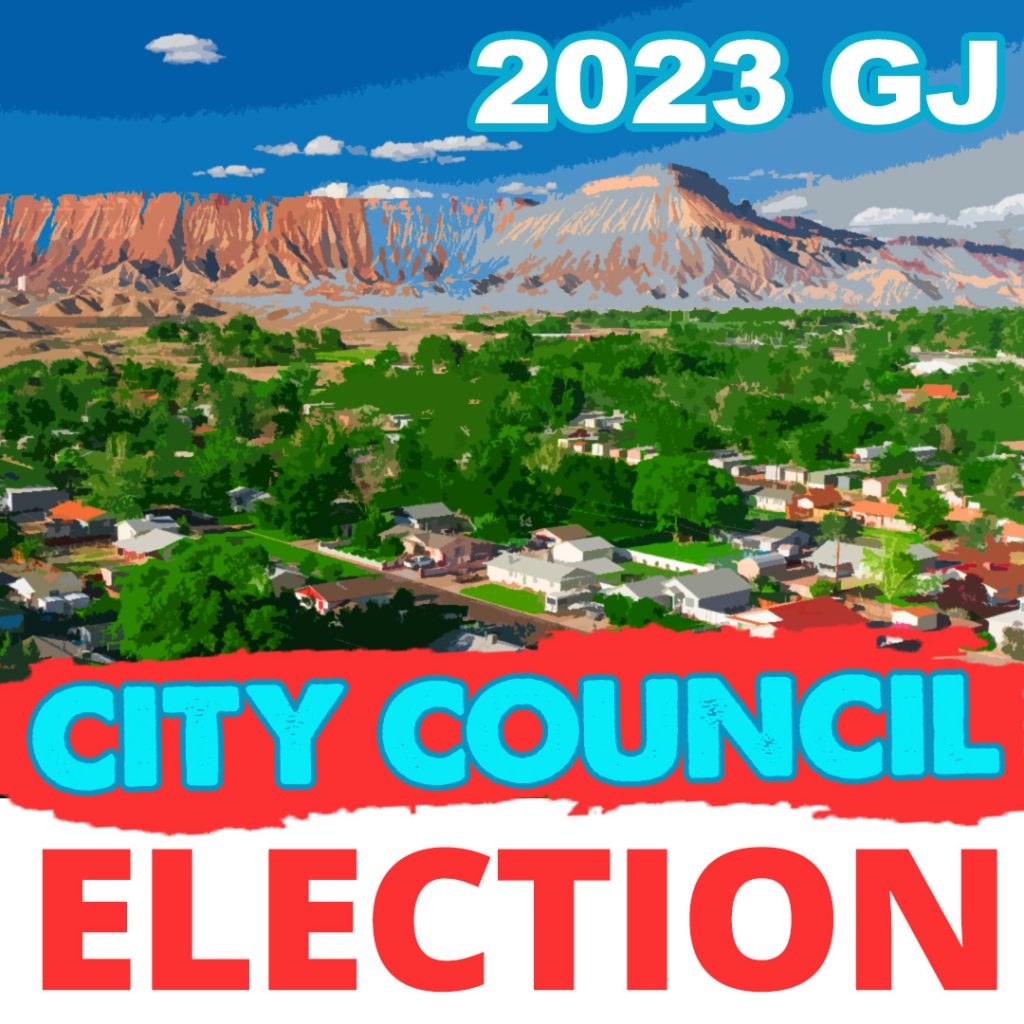 WHO IS COLORADO RURAL VOTERS?
Colorado Rural Voters (CORV) is a non-partisan local political organization run by Western Slope volunteers from five counties.
We strive to invigorate our democracy and elect accessible officials who are representative of the diverse values, aspirations, and economic needs of their constituents – officials who rise above division and partisan barricades to bring big vision and real solutions to their service.
We support candidates who:
Subscribe to the ideals of a true grassroots democracy and who are open, honest, and responsive to the people.
Reject extremism and work to heal political polarization.
Act to protect our land, air, water and food and leave a healthy climate for our kids.
Work to ensure that all people have access to affordable healthcare, housing, and nutritious food.
Bring a real vision to grow economic mobility and diversification and a commitment to ensuring that our economy works for all our families.
Support energy that is cleaner and more local, bringing next generation energy jobs to our communities, working to lower energy costs, and increasing local energy resilience.
Respect and work to uphold human dignity and the civil rights of all people.
CORV also supports ballot measures at the state and local level that align with our mission and values!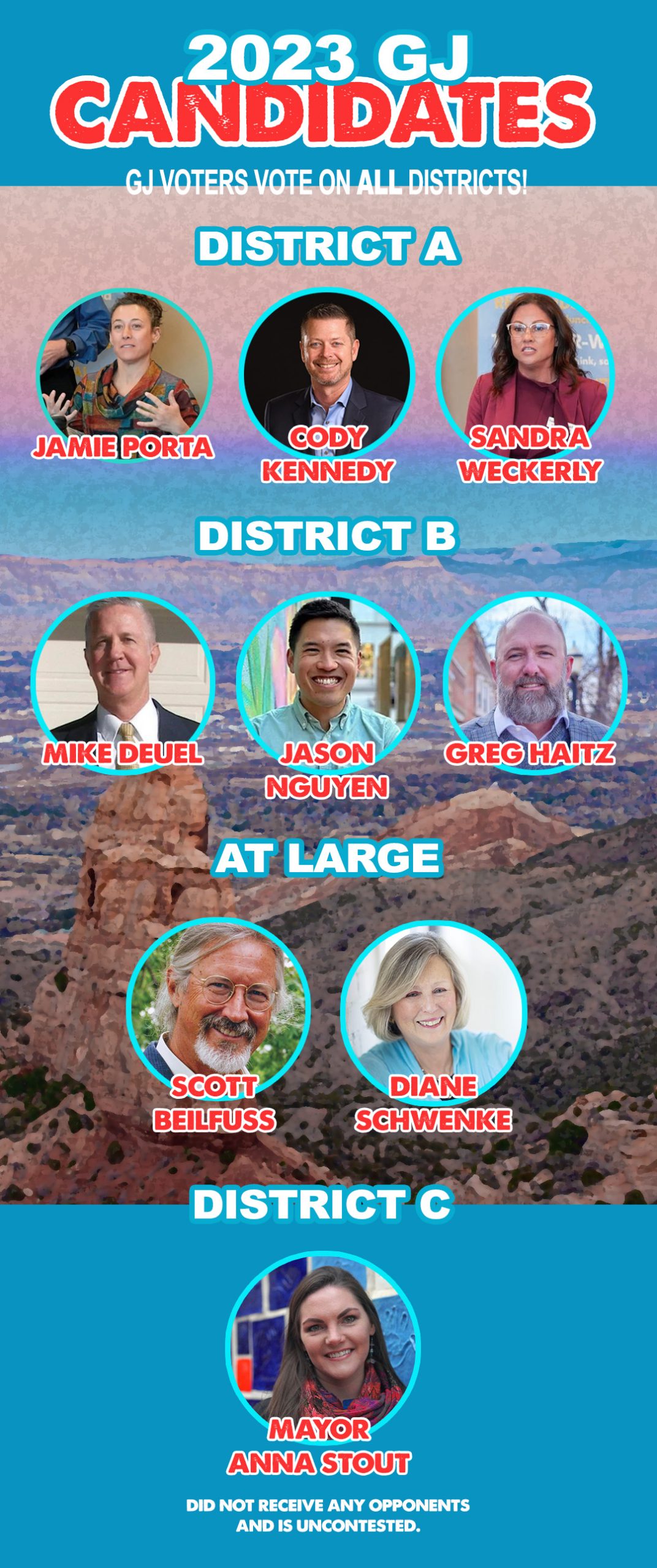 WHICH WAY WILL WE TURN IN 2023?
Grand Junction is getting big things done. Over the past four years, our mostly bi-partisan, collaborative City Council has brought real results on every day needs like:
A comprehensive housing strategy
Local small business growth, even during the downturn
No growth in city fees
New childcare services
New restaurants, indoor and outdoor recreation businesses and spaces, and new housing construction approvals
$41M in new economic activity and 257 new apartments at the vacant City Market property on 1st St.
Riverfront revitalization with public spaces, recreational activities, and business occupants – and a great iconic playground entering construction soon
A successful application for a DOLA grant for the development of new housing and public activity spaces in the Dos Rios area
A new sustainability staffer working on environmental resilience for the city
1st St. and Grand Ave. road improvements
4th and 5th St. traffic study, with traffic improvements to come
City Council support in referring the GJ Community Recreation Center proposal to voters this election.
WHO WILL CARRY THIS MOMENTUM?
Voters are electing new City Councilmembers in three seats this year. Three of our seven-member council will be brand new when the next City Council takes office.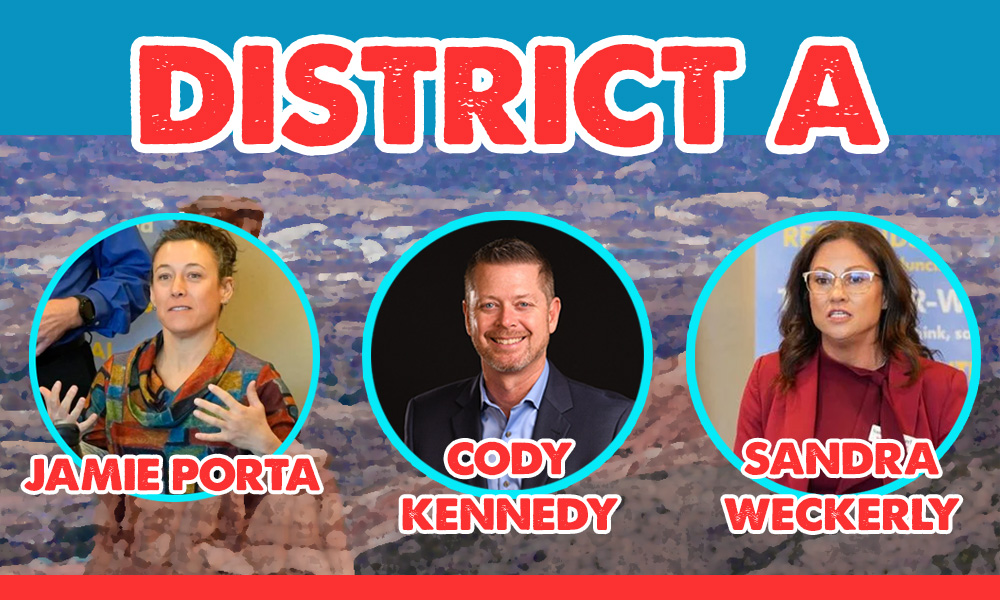 In District A, voters have a choice between three candidates.
All candidates say they're running to work on similar affordability, pocketbook, and growth issues, but their length of community service, residence in Grand Junction, and work experiences vary dramatically.
Jamie Porta, a two decade resident, is a union apprentice electrician, former Ute Water employee, and grassroots activist on labor rights and environmental issues. Website.
Cody Kennedy is a 17 year GJ Police patrol officer, SWAT team member, and detective solving cases including violent crimes against women and financial theft and scams. Kennedy is active with local housing, homeless, public safety, and refugee support nonprofits. Kennedy has built a small business managing around 20 rental properties that he often uses to help people who've fallen on hard times. Website.
and Sandra Weckerly, who is owner and operator of the Redlands Mesa Golf Course and owner of the new Mama Ree's restaurant. Weckerly's family moved to Grand Junction in the last decade and, to our current knowledge of publicly available information, have bought over $20M in large apartments and business property. Weckerly serves on the Planning Commission. Website.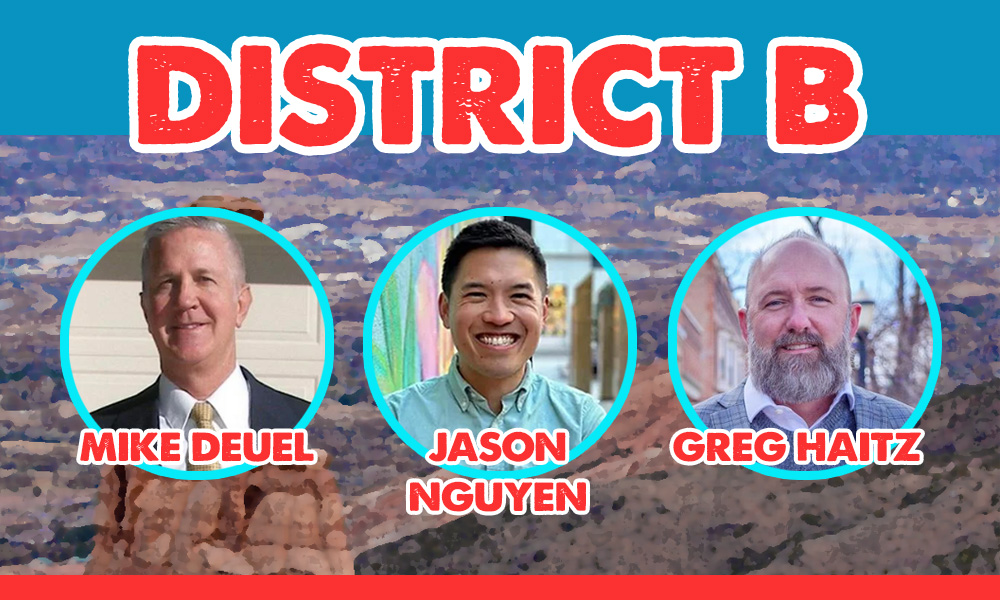 In District B, voters have a choice between two candidates.
This race offers the starkest contrast of any in 2023. All candidates say they're running to work on similar affordability, pocketbook, and growth issues, but their past community engagement and service couldn't be more different.
Mike Deuel is a two decade resident of Grand Junction and bike mechanic, but our team could find little available information about him or a record of community service.
Jason Nguyen is a professional energy analyst and scientist with the Department of Energy, a trained chemist, avid climber and cyclist, and young father. Jason serves on the Grand Junction Urban Trails Committee and Bike and Pedestrian Master Plan Steering Committee. Website.
and Dr. Greg Haitz, a chiropractor, founder of Rimrock Wellness Center, and attendee of local radical groups like "Stand for the Constitution". The local COVID-19 anti-mask and conspiracy movement, Stop the Mandate, was registered at Haitz's address. At the same time, Haitz marketed and sold his own anti-COVID vitamin powder. Haitz serves on the Planning Commission. Website.
In District C, voters have a choice between two candidates.
Scott Beilfuss is a three decade local resident, small business owner, and long time grassroots organizer on state and local policy, with experience on issues including healthcare, environment, and housing. Scott is a frequent attendee of local government meetings. Website.
Diane Schwenke recently retired as President and CEO of the Grand Junction Chamber of Commerce after 33 years of service there. In that role, Diane has worked on economic development, business recruitment and retention, and state and local policy. Website.
ALSO ON TH E BALLOT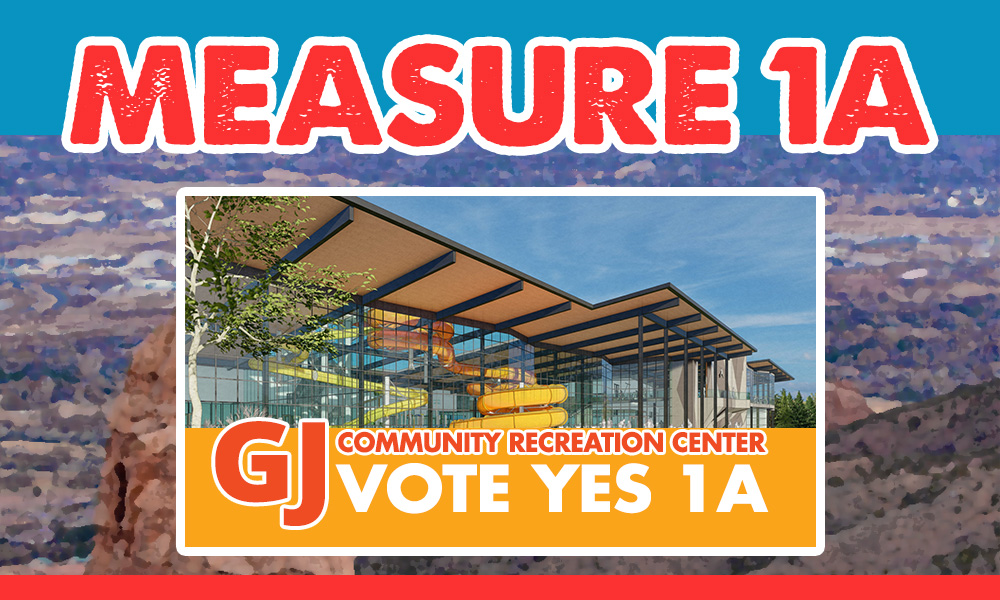 GJ Voters have a chance to vote on Measure 1A, which would build the Community Recreation Center that has consistently ranked top of resident priorities in city surveys for two decades.
Voters narrowly rejected a community center in 2019. The new proposal is markedly cheaper to taxpayers than the 2019 proposal, thanks to the cannabis sales and sales tax that GJ voters approved in 2021. Cannabis sales tax revenue would pay for much of the center's cost, topped off by a 0.14% sales tax – costing $0.14 on $100 spent locally – that does not apply to medicine, groceries, and gas. Center proponents note that roughly only 30% of local sales tax is paid by locals while the rest is contributed by tourism and visitors to the city.
This proposal has won the support of major community economic development and health institutions, from the Chamber of Commerce and Grand Junction Economic Partnership to the St. Mary's Hospital. It is also endorsed by local elected officials of both major parties.
Voters can see the Center's features at the Community Recreation Center campaign website.
NEED HELP VOTING?
Ballots mail to all active registered voters the week of March 13. You can vote by mail, drop your ballot at an official city drop box, or vote in person by Election Day, April 4.
You can check your voter registration status and mailing address at GoVoteColorado.gov
You can also view city voting resources or contact the city elections office at this website.
Thank you for being a Grand Junction voter in 2023!