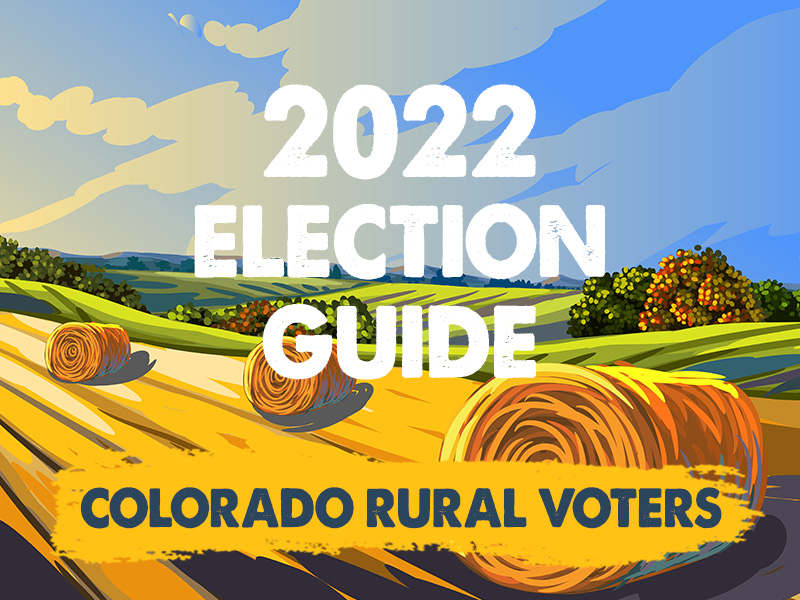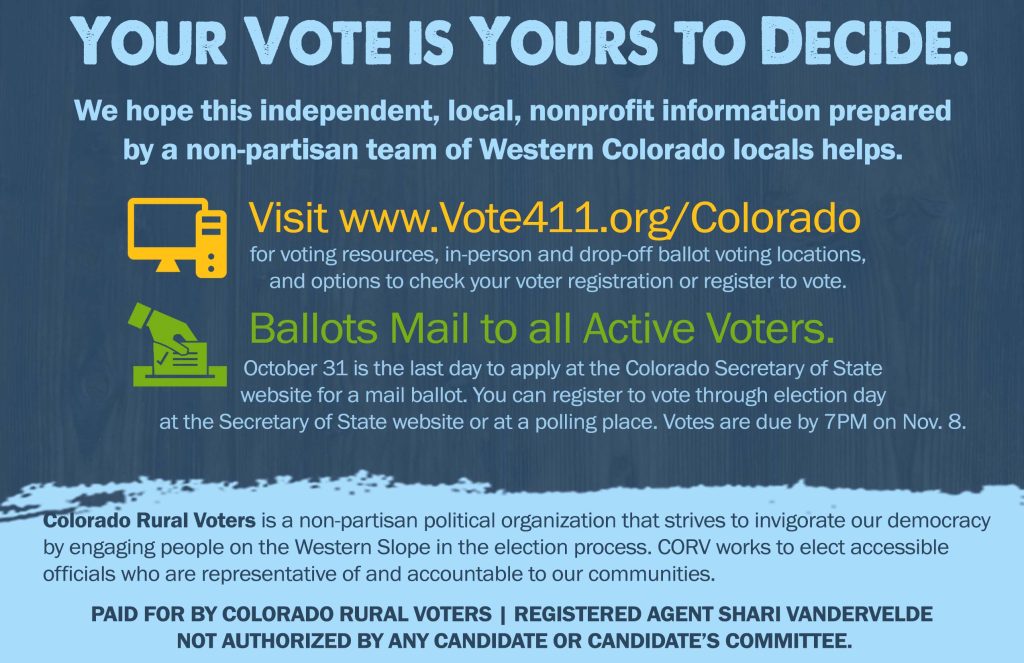 Voters in the Delta and Montrose region are deciding on two vital races that will determine what kinds of issues and what kinds of problem-solving will be elevated for the next two and four years:
• House District 58
• Delta County Commission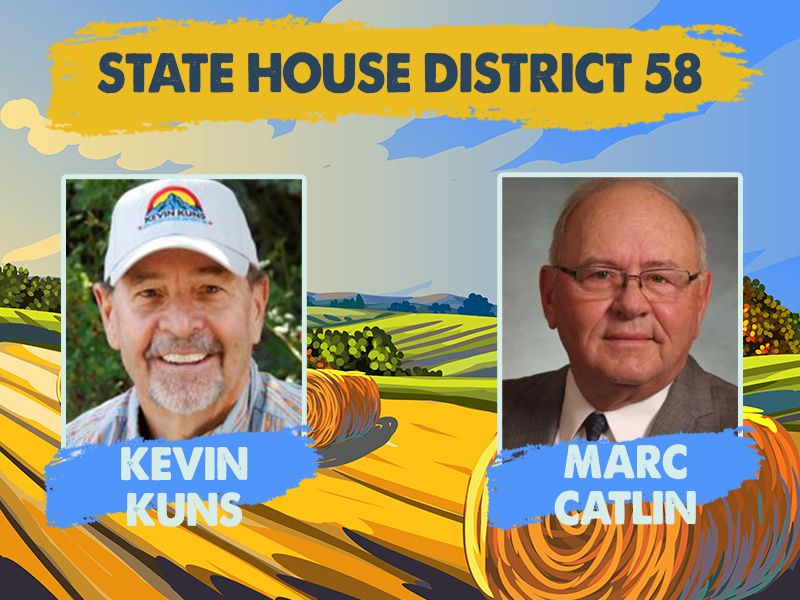 Meet Kevin and Marc
Kevin Kuns grew up in Texas and Wyoming and worked for over 45 years in the restaurant and recruiting industries, managing large projects and teams and placing over 800 executives with Fortune 500 companies, alongside operating his own restaurant in Lake Tahoe. Kuns moved to Montrose in 2014. He serves on nonprofit boards and served on the Montrose County Commissioners Advisory Committee.
Marc Catlin was born in Montrose, He grew up on an irrigated farm raising sugar beets, barley, and sweet corn. He worked in real estate, bank agricultural lending, and for the Uncompahgre Valley Water User's Association and Montrose County.
Catlin has served in the State House since 2017, is vice-chair of the House Agriculture, Livestock, & Water Committee, and serves on the Transportation & Local Government Committee.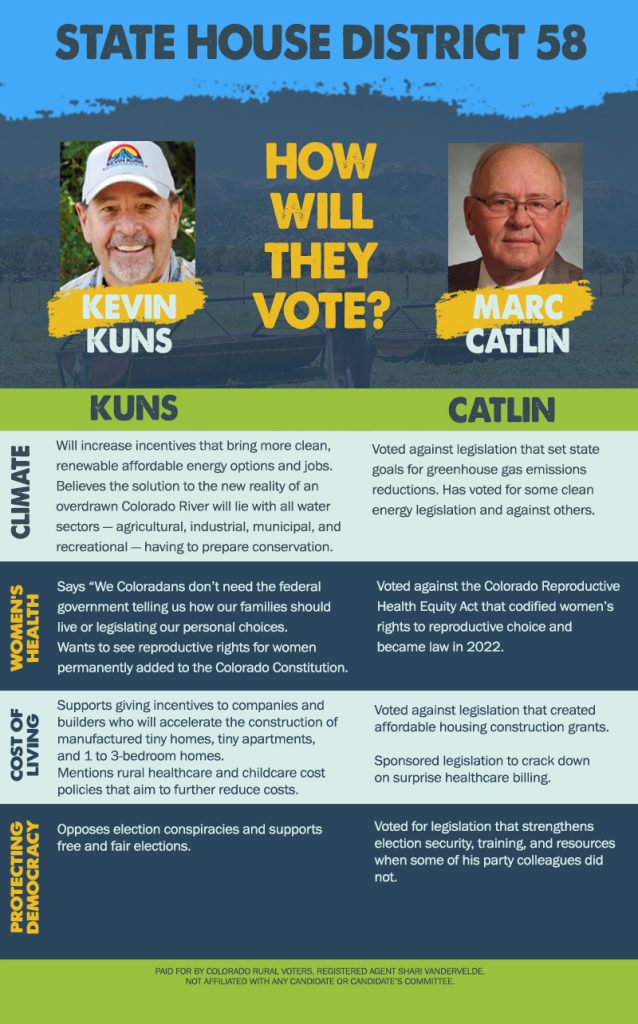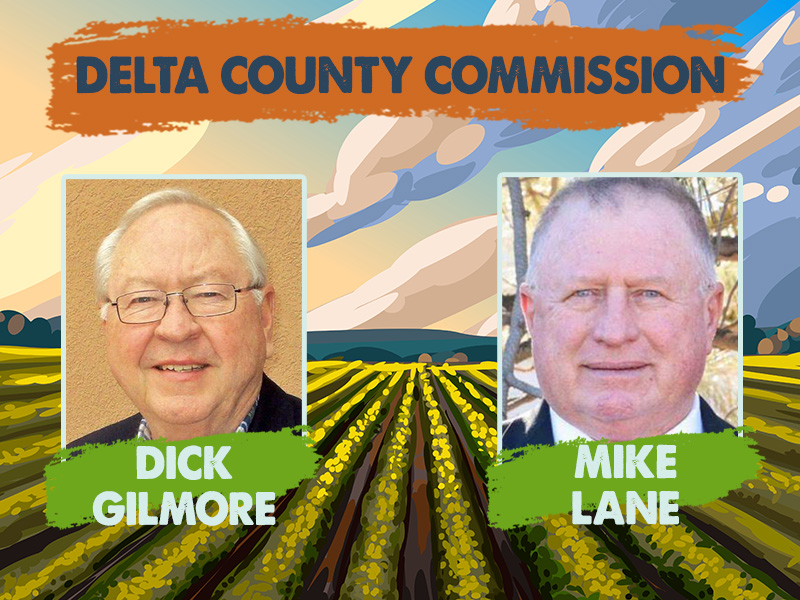 Meet Dick and Mike
Dick Gilmore is a 20 year Delta resident and three term member of the Delta County Planning Commission. Dick holds a Masters Degree in counseling from Penn State and worked at DuPont for 25 years.
Gilmore ran for county commission in 2018 and cites the Board of Commissioners' decision to veto the Peach Valley local solar proposal after it had been vetted and approved by the Planning Commission as his catalyst to run again.
Mike Lane is a Delta County native from an agricultural family. He worked at the Delta Sales Yard and owned it until its sale in 1996. He also served as an agriculture lending officer at Credit Services in Montrose. Mike worked for Halliburton in multiple states until retiring.
Lane was Delta County Commission Chair in 2021 and has worked on the new Health Services building and enhancements to the Delta Library,
Sheriff's offices and courthouse.